Our Services
Water Damage
Emergency Water Removal
Leaking Roofs
Water Damage Mitigation
Water Extraction
Dehumidification
Water Damage Repair
Wall Moisture
Fire Sprinkler Cleanup
Water Damage Restoration
Broken Water Lines

Contact Us
Dry Force Water Damage
1227 Wade Green Circle NW
Acworth, Georgia 30102

(770) 579-8255

Some of the insurance companies we work with on a regular basis: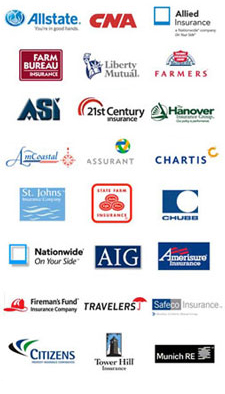 Water Damage Restoration Services

Water damage in Acworth can have long-lasting, expensive effects when not treated properly. When a pipe bursts, when a plumbing problem causes a leak, or when flooding from a storm threatens your home, it's essential to act quickly to reduce the amount of damage. What can you do? Follow these steps to immediately address the problem:

Create a dry out plan to save your items and reduce the risk of rust and mold.


Move air naturally throughout the affected area(s). Atlanta can be a pretty humid place, but if the humidity is not too high, open doors and windows to promote air circulation. Don't forget to open cabinets and remove drawers if they are soaked and saturated.


Move air mechanically. Use as many high-powered fans as you can find. If you don't have many, borrow a neighbors or rent some. Do NOT use your central air conditioning unit if your HVAC ducts are submerged in water.


Dehumidify. Purchase a large portable dehumidifier and put it to use. A dehumidifier will greatly lessen the amounts of humidity and water vapor in any given room or area, inhibiting mold and mildew growth.


If you have standing water that runs a few inches deep, invest in a sump pump. The pump, which acts as a pipe or hose, will move the water safely out of your home.


Take sodden or sopping objects, such as furniture and rugs, into the sun so they can immediately start to dry. Remove linoleum or sheet vinyl flooring to promote the highest evaporation rate.


Desiccants such as silica gel, calcium oxide, and clay will work as a sponge to help absorb moisture. The whole process will take days or weeks, but at least you will have started diminishing the amount of moisture on wet items or carpets.

Now that you know of some initial steps in removing moisture and preventing permanent water damage, it's time to call in the professionals to help!

A professional company, such as Dry Force Water Damage, can use state-of-the-art water removal techniques that will greatly decrease the chances of widespread contamination. These experts know how to inhibit harmful bacteria, fungus, and mold, all of which can cause serious health problems or long-lasting, if not permanent, property damage.

Before your furniture or carpets are completely ruined, let the professionals enact a personalized plan that will target the problem areas in your home, and remove and reduce the amounts of water, moisture, and water vapor.

We rely on our mastery of psychometrics (the study of air, humidity, temperature, vapor pressure, and dew point) to assess conditions and create a drying atmosphere that is effective and thorough.

We will create a custom plan that will save and restore damaged contents affected, relocate furniture to safer areas or on elevated supports, remove damaged carpets and padding, extract as much standing water from the area as possible, deodorize affected areas, and carefully monitor the drying process until it is complete.

Professionals such as Dry Force Water Damage utilize a variety of water removal techniques, such as hot water cleaning, dry washing, and extraction.

Hot water cleaning will thoroughly clean and remove dirt and debris from your carpets, as the hot temperatures kill microbes and sanitize. Dry washing, such as foam, bonnet, and shampooing, will target and remove stains. Once the severity of the situation is assessed, different types of extraction tools can be used.

For heavy-duty water removal by extraction will remove large amounts of water in just three passes. The water claw, a manual extraction tool, is handy for its ability to fit into tight places, such as closets and bathrooms; plus, its light wands reduce water accumulation in carpets and flooring. Speed dryers and dehumidifiers will move moisture out of the building or quickly absorb moisture. Dehumidifiers can be treated with desiccants, which will drastically increase the rate of evaporation. Ultra Low Volume Foggers produce a light mist that penetrates odors before they take hold in rooms, walls, and carpets.

Quick, Top-Notch Service!

Dry Force Water Damage offers Emergency 30 Minute Response time for sink or toilet overflows, a leaky pipe, a leaky roof, a burst pipe, or wall moisture. One of our emergency water damage and restoration experts will be on the scene in 30 minutes or less to assess the water damage. You will then receive a free assessment, during which our expert will locate all affected areas using moisture meters and thermal infrared cameras.

Insurance Companies

Our professionals excel in working effectively with your insurance company in accurately conveying issues and damage to ensure that you get the coverage you need. We cut through the "red tape" to process the claim and work hard for each client. Three to five days after removal, we schedule a walk-through with the insurance adjuster to document damages and create a plan for restoration and reconstruction.

Restoration & Reconstruction

After water has been removed from your property and ceilings, walls, air ducts, floors, carpets, upholstery, furniture, and personal belongings have been properly dried, our crew can begin the restoration process. We will replace and/or rebuild cabinets, walls, furniture, and floors, and make sure that everything is back to its original condition... Like it never even happened!

So, in essence, there is no substitute for a professional water removal company. Water damage can be permanent and detrimental to your belongings and health. Efficient, skilled, and thorough, Dry Force Water Damage has the professional know-how to walk you safely and securely through every step of the water removal process. When emergency strikes, let our water damage experts restore your home in just a matter of days.



Why Us?
5 Star Reviews Online!
We are Acworth's Top Water Damage company!
10+ Years Experience!
We know water damage restoration and our industry, period!
5,000+ Restorations!
Our track record for water damage repair and restoration services is proof!
No Insurance Hassles!
We make sure your claim gets covered. Direct Insurance Billing!
Fast Response Times!
We arrive on-site as soon as humanly possible, no excuses!
Free Onsite Inspection!
We provide a FREE No obligation assessment.
24/7 Customer Support
We are always here to help when you need us the most!
Guaranteed Work!
We guarantee all workmanship and materials.
Emergency Services!
We are ready to help you in your time of need, night or day!
Professionally Trained & Certified Personnel!
All personnel is professionally trained, certified and ready to work.
We are Licensed, Bonded, and Insured!
We are ready for any job that comes our way. You are always covered!
3rd Party Adjuster!
A 3rd party verifies your current loss.

News & Events
April 8th, 2023
Acworth Water Damage Mitigation Process
When your home is damaged by a flood, it is important to start the water damage mitigation process as soon as possible. The longer that water is left sitting around your home, the more damage it will do. If you do not call in the experts right away, your home may suffer irreparable damage that can be ...
November 5th, 2019
Hiring an Acworth Water Mitigation Specialist?
When the torrential downpour finally stopped, and the water subsides, many households realize that their home has suffered severe damage. To make matters worse, the water might be contaminated with animal droppings, decaying insects, bacteria, fluids and oils from the roadways along with ...