Our Services
Basement Flooding
Water Mitigation
Mildew Cleanup
Sink Overflows
Mold Removal
Water Damage Repair
Basement Waterproofing
Mold Remediation
Sewage Backups
Flood Damage Cleanup
Water Extraction

Contact Us
Dry Force Water Damage
1227 Wade Green Circle NW
Acworth, Georgia 30102

(770) 579-8255

Some of the insurance companies we work with on a regular basis: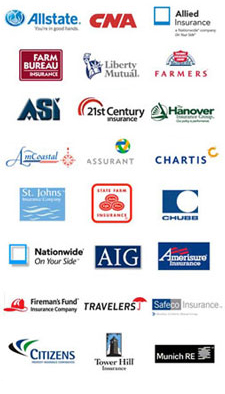 Corporate Information

Dry Force Water Damage, a family owned and operated business located in Acworth, Georgia, is a trusted leader in the water damage restoration industry. Our company's primary focus is centered on providing quality services, excellent customer support, and a stress-free project plan for your disaster.

All of our services are currently offered to residential, commercial and industrial consumers alike. Whether it be a client big or small, our loyalty and commitment will always remain the same! We currently offer a vast array of services that includes water damage restoration services, mold & mildew remediation services, sewage backup and removal services, flooded basement cleaning, toilet & sink overflows, flood damage services, clogged toilets, leaking pipes, foundation cracks, wall moisture, roof leaks and much, much more.

As a reputable Acworth water damage remediation company, we will always ensure you fast completions within our coverage area, effective communication from start to finish, and quality rebuilds. Dry Force Water Damage will aggressively work with your insurance company to get your loss covered. We strongly suggest that a client contact us before their insurance company. Let us know how we can help you or your company!

Dry Force Water Damage files/reports all social security, federal, state and local tax issues as required for all employees and personnel. Our company is also licensed, bonded and insured for your protection.

Dry Force Water Damage currently accepts payment in the form of cash, money order, personal or business check, Net Terms, or by credit card.




Dry Force Water Damage provides water and sewage damage services in Acworth and in nearby surrounding counties. Our current coverage area spans well beyond a 35 mile radius from the center of downtown Acworth. If you are not in our current service area, please contact us as we may still be able to assist you.




Our company works with numerous insurance companies to ensure your loss is always covered. Please give us a call at (770) 579-8255 before you file a claim so we can make the process as painless for you as possible. We will deal with your insurance company and handle everything from start to finish!




At Dry Force Water Damage every customer we assist is always our top priority. When a disaster strikes your home or business we work hard for you to get the best possible outcome with your insurance company. No job is to big or small, we are here to help you! Please contact us before you contact your insurance company to ensure your loss is properly covered.





News & Events
November 5th, 2019
Hiring an Acworth Water Mitigation Specialist?
When the torrential downpour finally stopped, and the water subsides, many households realize that their home has suffered severe damage. To make matters worse, the water might be contaminated with animal droppings, decaying insects, bacteria, fluids and oils from the roadways along with ...
November 23rd, 2019
Water Damage Dryout in Acworth
To dry out after water damage should always be top priority in a cleanup list. If you are able to dry items down within the next 48 hours or less, you should be able to save a lot of items and avoid the possibility of rust and mold. In the unlucky event, you will find yourself with the occurrence of water damage due to a ...